Pile Driving in Northern Idaho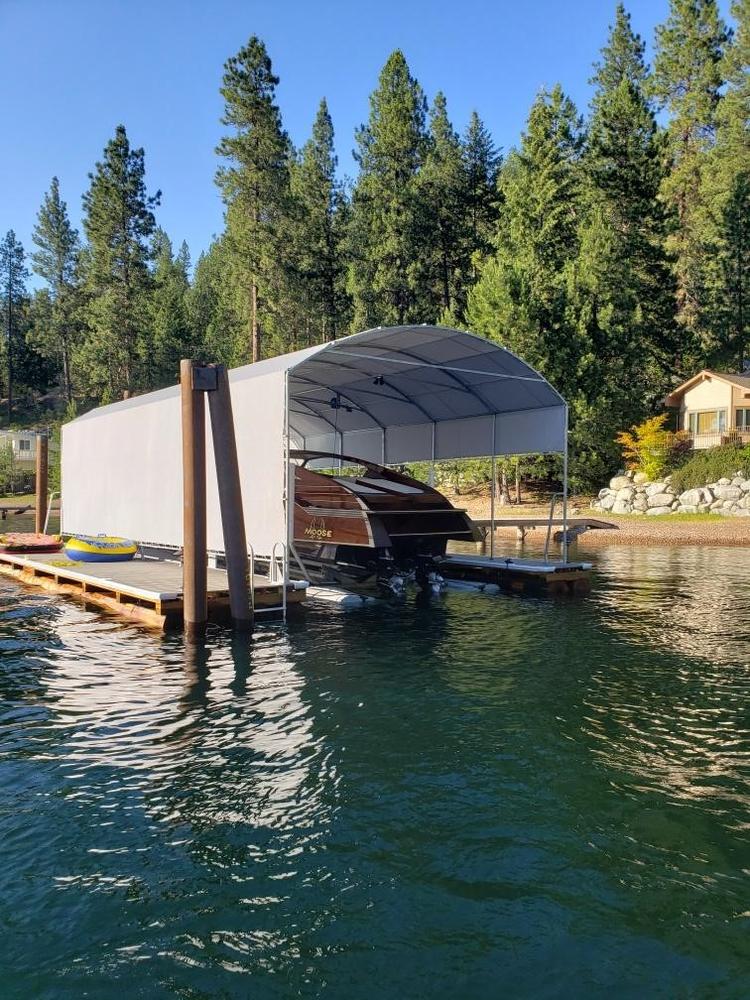 A lakefront property isn't the same without a dock to jump and fish off of in the summer heat. If you are looking to install a long lasting dock a great first place to start is the foundations. Piles are long poles that are driven deep into the bottom of the lakebed that hold your dock in place and contribute to its longevity. There are many things to consider when starting the process of pile driving. First of all, why should you choose a piling dock over other types of docks? What is the installation process like for piling docks and what materials should I use for my dock's piling?
Why Choose a Pile Driven Dock?
Docks that are built with piling foundations are durable and long lasting. Piling docks are a smarter choice for your lakeside needs. Crib docks are built on wooden frames called cribs. These frames are filled with rocks and then covered with decking. Although very stable, crib docks are prone to shifting, lifting, and sinking even with regular maintenance.  A floating dock is a platform that is supported on air-tight buoyant pontoons. Floating docks, though, are not as stable or durable. These types of docks face the same problem as the crib docks. They can warp, sink, splinter and shift. Crib docks and floating docks can last 10-20 years at the most. Piling docks on the other hand, can last 10-20 years beyond even that. Piles have less contact with the lake bottom which lowers the risk or rot and water damage. In the long run pile driven docks are more cost efficient, durable and stable. As a professional pile driver and dock building company with years of experience, piling docks are one of the best options for lakes in northern Idaho. 
The Process of Pile Driving
Pile driving is the process of driving piles deep into the lake bottom to secure and stabilize the dock or structure built on top of it. High impact hammers, called drop hammers, are used by our workers to drive the piles deep into the lake bottom. Piles are usually driven down to a minimum of ten feet into the lake bottom or until the pile can't be pushed down any further. By having deep foundations you can ensure that a structure will be stable. Piling transfers the load of the structure to the lake bottom where soil settles and solidifies the foundation which contributes to the support of the structure. One of the most common docks, peer docks, are built right onto the pilings. Other pile docks are held together with hoops and chains. Jake on the Lakes provides both types as options. Pile driving is one of the most reliable and long lasting options for dock foundations in Northern Idaho. 
 The Best Materials for Pile Driving
There are many different materials that can be used for piles, but some of the most durable and cost efficient for the lakes of Northern Idaho are wood and steel. Wood piles are made out of many different types of wood, but at Jake on the Lakes we offer Tamarack. We choose Tamarack for its high resistance to rot and because it does not require chemical treatment, which means that it's cheaper and more sustainable. Tamarack also has a high resistance to bending and compression which makes it a perfect choice for piles. Tamarack rates one of the strongest softwoods and its natural resin and extractives make it incredibly durable. Choosing wood piles offers a sustainable and cheaper option, but we often recommend steel piles. Steel piles offer the greatest load capacity and corrosion resistance. . We use steel pipe pilings which can handle extremely heavy loads and can be virtually impervious to the elements. Where wood pilings can after a while begin to wear down just from the elements and dock connectors, steel pilings will maintain rigidity and durability despite what the weather or general wear and tear can throw at them. 
Driven to Drive Piles
Here at Jakes on the Lakes we have a wealth of knowledge and experience. Pile docks are an excellent choice if you're lakeside. If you are looking for quality, durability and longevity Jake on the Lakes is there for you. We are gearing up for Summer 2021 and all the lakes that we service: Lake Coeur d'Alene, Hayden Lake, Newman Lake, Priest Lake, Lake Pend Oreille, Hauser Lake, Lake Cocolalla, Liberty Lake and the Spokane River.  Contact us now and get on our schedule as soon as possible.  There is great demand for piling in the area but few companies that provide the service.  Don't get caught with your shorts down at your water front without a dock.
LET'S TALK
p: (208)818-0373
e: jaketterpstra@gmail.com